What better way to get to know the local culture than to volunteer your time?
Are you a designer? Artist? Videographer? Maybe you have teaching experience or business & marketing skills. There's always an opportunity to volunteer with Cloudhead.
What we offer our volunteers:
THE WORK: 
We help set up an itinerary that includes your interests and expertise. You can work on a particular project or help out with a few.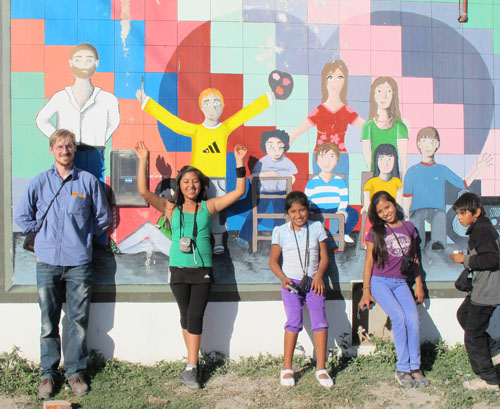 We normally have at least 2 of our own projects happening throughout the year. Plus, our partnerships with local NGOs allow us to work with volunteers from all backgrounds allowing everyone from Fulbright fellows to writers to social workers, IT professionals and more.
We do not require a specific time commitment, but some of our partner programs do.
FOOD & ACCOMMODATION:
Cloudhead volunteers pay for their own food and accommodation, but we make every effort to make sure you find good quality and affordable local resources. 

We only recommend businesses we have personally used and have a solid track record of good practices. If you do happen to run into problems with the businesses or organizations we recommend, we are here to negotiate or run interference for you.
We are always available to help in case of medical emergencies.
CLOUDHEAD EVENTS:
Every month, we host an event at the Cloudhead arthouse. All volunteers are welcome at any of these events. We host classes, talks and short workshops plus a monthly international dinner, and we're always open to your ideas for events.
It's the perfect way to meet people both from the local community as well as other travelers, artists and volunteers.
TRAVEL SUBSIDIES:
We've recently joined with Diversity Travel in the UK to offer cheaper airfare that includes flexible no fee change dates and no charge extra baggage for the people who work with us. In addition, we partner with tour agencies in Salta to give you a volunteer discount for tours and other amenities in Salta.
COSTS:
We ask our volunteers to Pay-As-You-Wish for the connections, contacts, resources and experiences you find at Cloudhead. Look at our programs, become part of our community and look at your own budget to decide what you want to pay.
Why do we do this? Cloudhead's core value is one of collaboration and partnership. Instead of dictating what we believe you should pay, we ask you to partner with us to keep our programs running based on what you can afford and the value you see in us.
If your visit requires additional resources that require research or need to be addressed prior to your arrival in Salta, such as finding schools, legally bringing money into the country, finding long term leases or buying a car or property, we are happy to help you understand local government and other processes in order to make things run more smoothly.
This is a service we provide only for our volunteers and the only service that does not fall under our pay-as-you-wish model.
Contact us for pricing and more information.
FOR MORE INFORMATION ABOUT VOLUNTEERING WITH CLOUDHEAD, E-MAIL leigh@thefutureisred OR APPLY NOW TO BECOME PART OF THE CLOUDHEAD VOLUNTEER COMMUNITY